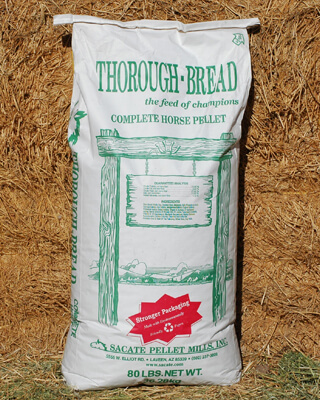 Suggested Uses:
For Moderate Work, Heavy Work, Nursing Mares, Weanlings, Yearlings
Guaranteed Analysis
Crude Protein, not less than................... 12.0%
Crude Fat, not less than........................... 2.0%
Crude Fiber, not more than..................... 25.0%
Ingredients
Sun-cured alfalfa hay, cracked corn, cane molasses, wheat bran, salt, phosphoric acid, ferrous sulfate, zinc sulfate, manganese sulfate, copper sulfate, potassium iodine, cobalt sulfate, vitamin A acetate, D-activated animal sterol (source of vitamin D3), d1-alpha tocopherol acetate, vitamin B-12 supplement, riboflavin supplement, niacin, calcium pantothenate, choline chloride, thiamine hydrochloride.
Suggested Daily Feeding Amounts (lbs.)*
---
Type
800 (lbs.)
900 (lbs.)
1000 (lbs.)
1100 (lbs.)
1200 (lbs.)
1300 (lbs.)
Feeding Hint: A 3 lb. coffee can holds approximately 4 lbs. of pellets.
Moderate Work
12
13.5
15
16.5
18
19.5
Heavy Work
16
18
20
22
24
26
Nursing Mares
20
22.5
25
27.5
30
32.5
Weanlings, Yearlings
24
27
30
33
36
39
* Individual differences in horses and their situations may require some modification in the amounts suggested above. Therefore, common sense and good judgement should be used to modify your horses feedings, i.e. a horse that is gaining weight too quickly should be fed less.