About Our Products
1Why do you produce three different pellets?
Each pellet serves a different nutritional requirement depending on the age, health and workload of the animal.
2Which pellet is better for my horse?
It depends on your horse and its needs. Thorough-Bread is developed for broodmares and for high energy working or race horses that require a "hot" food source with plenty of energy. Standard-Bread is made for those owners who seek a pure alfalfa diet with the right combination of additional ingredients to meet their horse's everyday nutritional needs. Bermuda-Blend was specifically developed for light-duty and older horses that require less energy in their diets.
3How do pellets compare to hay (bag vs. bale)?
Pellets are essentially highly compressed hay that provide your horse with a much cleaner, easier to handle, efficient and more nutritionally-balanced type of feed than baled hay. An 80 lb. bag of pellets will feed the average recreational horse for over 5 days. There is also much less waste involved when feeding a bag of pellets than a bale of alfalfa.
4Do you make a Timothy pellet?
Timothy hay is not grown locally and it is not readily available in sufficient supply for pellet production. It is also extremely expensive due to its rarity. Bermuda is a more affordable alternative because it is similar in nutritional value and much more abundant in the Southwest.
5What is the size of the pellet?
Our pellets have a diameter of 3/8" and vary in length but are typically about 1 1/2" long.
6Why do the pellets occasionally vary in density?
The quality of a finished pellet is affected by the condition of raw materials, climate and several other factors. At Sacate, we strive to produce the highest quality pellet available by carefully screening our hay purchases and constantly maintaining our equipment.
7Why are pellets sold by weight and not by volume?
Due to small volume variations, weight is the best measure of the actual quantity purchased.
8Is the corn in the Thorough-Bread pellet organic or genetically modified?
The corn is not certified organic; however, it has not been genetically modified.
9Is the alfalfa organic and is it locally grown?
Due to the lack of availability of organically grown alfalfa, our alfalfa hay is not certified organic. All of our hay is grown locally.
10Are your pellets certified "weed-free"?
The State of Arizona does not mandate that Arizona farms provide this certification; therefore, we do not have access to certified "weed-free" alfalfa. We select only the highest grade of alfalfa available for our pellets. Our alfalfa hay is strictly monitored by our in-house brokers in the fields where it grows. It is then re-inspected prior to its use in production.
11Are the hay cubes made at your plant?
Our cubes are produced off-site but the quality is strictly monitored using the same quality control criteria as our pellets.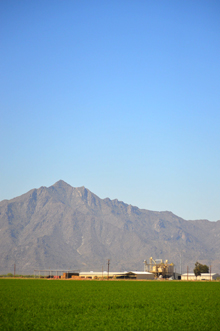 About Purchasing Our Products
1What does it take to be a dealer?
A dealer needs to have a feed resale license and a legitimate storefront (i.e. individuals who obtain a resale license and operate from their home, street corner or their vehicle will not be granted dealer status).
2What are the minimum purchase requirements for delivery?
The minimum purchase for deliveries is three tons. Deliveries are made for bulk purchases to private parties and dealers. Bag purchases are delivered on pallets to dealers only.
3Do you sell to the general public directly from your plant?
Yes, we have some customers with their own transportation that purchase in quantities of one ton or greater. It is typically much more convenient for customers to buy from their local distributor. Note: There is no pricing advantage for retail customers to purchase our products at the plant.
4How are customers sure they get what they ordered?
Starting with raw material selection, through manufacturing, order placement and ultimately to loading and shipping, Sacate takes extraordinary measures to guarantee pellet quality and proper order fulfillment. If for some reason your order is still incorrect, we will swap it with the correct order as soon as possible, free of charge.
5Do you sell feed hoppers or bins?
We do not sell hoppers and bins; however, occasionally customers ask us to help them sell their bins to other customers.
6Which forms of payment does Sacate accept?
We accept cash, checks, VISA and Mastercard. Checks are only accepted for customers that have solid credit and payment history with our company. We do not offer a discount for cash.
7How much do your bulk trailers hold and how do they work?
Each trailer holds up to 20 tons of pellets with 8 individual compartments that hold up to 2 1/2 tons each. These bulk trailers are filled from the top and, using attached built-in paddles adjusted for direction and height, are employed to unload pellets into a customers bin.
8How does a customer know that each bulk trailer bin contains the printed weight?
We weigh each product sold and print individual scale tickets for each order and their corresponding compartments from our certified scale as the truck is loaded.
9 Why does everybody have to weigh before and after loading?
The difference between the loaded and unloaded vehicle weights provides the exact load weight. This helps us ensure that our customers receive the correct load and also verifies inventory movement for accounting purposes.
10How can we claim exemption from state sales tax?
One of the most common sales tax exemptions available is for resellers (dealers). Exemptions are typically not available to individuals. Please consult your tax professional about your particular situation.
General Questions
1Can your bags be recycled?
Yes, our bags are 100% recyclable.
2What are your hours of operation?
Our office and scale hours are 7 AM to 12 PM, and 1 PM to 4 PM, Monday through Friday. We are closed on weekends and major holidays.