Only the best sun-cured Southwestern forages, offered in pellets & cubes.
Products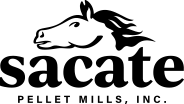 Sacate Pellet Mills, Inc
Individual ingredients for customized nutrition.
Build the feed that's tailored to your horse's needs.
Sacate and Lakin are committed to providing uncompromising product quality. We use only the finest ingredients in our products. All of our ingredients are 100% natural with no artificial fillers or additives.
Take a tour
Where can I buy Sacate feeds?